With its unique beauty, Latvia is one of the most intriguing countries in the world. In other articles we have shared a variety of information about this wonderful country. But in this article, we want to talk about the interesting and previously unfamiliar features of Latvia. So we will make you look at:
Latvia from a Different Perspective
1. Latgale
The city of Latgale, where primitive tribes lived in ancient times, Ludza is the oldest city in Latvia. Ludza, where historical ruins have been found since 1177 BC. It was founded in 1000 by Latgalian tribes[1]. Today, there are 14 settlements in the city of Ludza from the old history. 25 mounds and 70 tombs were discovered during archaeological excavations. These are only those detected. If some more research is done, we are confident that more historical remains can be found. Ludza is a historical and mystical city.
2. Riga Central Market
Riga Central Market, which is one of the largest markets in Europe with a width of 72,000 square meters, attracts tourists. It was added to the World Heritage List by UNESCO in 1997. It is protected by UNESCO from then to the present day. The Riga Central Market, of tourist and historical importance, is one of the most important landmarks in the city.
3. Mobile Internet Usage in Latvia
According to the 2017 OECD Digital Economy Outlook Report, mobile internet usage in Latvia averages 8.2 GB per month. It is the second most mobile internet-enabled country in Europe. This data shows an increase in 2019[2]. Latvian people often use mobile devices in their daily lives, public transport and social lives.
You May Also Like: Buying Property in Latvia and Getting Residency
4. Venta Rapid (Ventas Rumba)
Ventas Rumba, which is the biggest waterfall in Europe with its 249 meter area, is in Kuldiga city. The waterfall, which is normally 110 meters, rises up to 249 meters in case of flood. Especially in the winter season, excessive snowfall and melting snow do not cause floods, but it affects the waterfall.
It is a region that receives abundant rainfall in the spring season. The height of the waterfall with a depth of 2 meters ranges from 1.8 to 2 meters. The most obvious reason for this change is landslide.
Landslide opens holes in the ground at certain intervals. While your feet are on the ground, you can suddenly exceed your height. The degree of shallowness and depth of water is therefore variable. [3]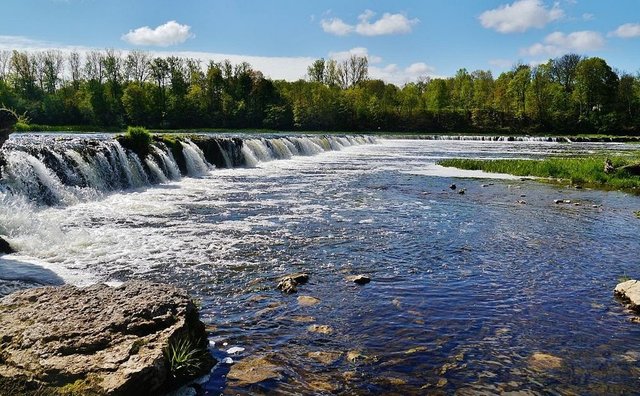 That's why swimming in the waterfall is prohibited. Only monitoring is allowed. In the past, city dwellers used this waterfall for river crossings. But river use is currently not possible. Erosion caused by seasonal changes has cut the river and waterfall connection. Rafting is allowed in a safe area of the waterfall. Thousands of tourists visit this waterfall every year.
5. Riga International Airport
Riga International Airport, the largest air traffic center of the Baltic States, covers 45% of the regional flights. At this airport, 69 airlines in the winter and 20 airlines in the summer organize flights to 79 different regions.
6. The First Christmas Tree in Riga
The National Christmas Tree Association officially recognized that the first Christmas tree in Riga was decorated in 1510.
You May Also Like: General Information About Riga
7. Forest Area
Latvia, half of which is covered with forests, had 1,747 million hectares of forest in 1935. In 2015, this ratio was 3.356 million hectares. So the forest regions have increased more.[4]
8. The Riga Circus Building
The Riga Circus Building, the only circus in the Baltic countries, is located in Latvia. It is also one of the oldest buildings in Europe. The circus building is on Merķeļa Street, one of the busiest streets in the city. This place has become the symbol of Riga and is very important from a historical point of view.
9. Vaiņode Air Base
Riga Central Market, which was an armored hangar in the past, was transformed with a decision taken in 1922. Aircraft dropped by the German army in World War I would be kept in this hangar[5]. It was organized as a market place upon the decision of the government. Vaiņode Air Base in Kurzeme currently operates as the Riga Central Market.
10. Sigulda Bobsleigh
The race sled track, built in 1986, 1200 meters long and consisting of 16 sections, is located in Sigulda city. This track is the only bobsled track in Eastern Europe. It hosts many competitions. Since it is spread over a very large area, it could not pass over the train tracks.
You May Also Like: Start-up Visa Stages to Set Up a Business in Latvia
BONUS:
Of course, Latvia's beauties are not limited to these. It has a total of 12,000 rivers and 3,000 large and small lakes. This country is a great option for boat lovers. Besides, it is famous for its sandy beaches that are 330 miles long. Although it is a unique experience for cold water lovers, thermometers can even exceed 20C in summer. You may even need to have sunscreen with you.
Among notable information, we can count the bad memories of the Second World War. About 12% of Latvia's population was killed in the war. This is the highest percentage in a European country. Later, nearly 200,000 people were imprisoned in Soviet prisons. [6]
To repeat, we cannot finish the beauties of Latvia by counting. We've only been able to list a few of them here. You can understand what we mean by Latvia's natural and historical beauties by watching the video below.
Life in Latvia
The Latvian government has offered many facilities to those who want to live here. Countless people admired this country and moved here. There are even a lot of people who have moved their business here. If you have not bought a house for living in Latvia, you will need a rental house first. What you need to be careful about is whether the bills are included in the rent. Because by keeping the rent low, there may be the possibility of getting more money out of your pocket with bills.
Billing costs excluding the rent are generally at reasonable levels compared to other European countries. Although it varies according to the house, the cost of electricity, water, heating varies between 90€ – 200€ in total.
You also have many options for transportation. Buses, trams, and taxis are generally preferred. In Latvia, affordable taxi fares offer a distinct advantage.
Latvia is a country where you will not have any problems with your kitchen needs. The purchasing power is good, and there are many large hypermarkets and markets where you can easily find the supplies you need.
Fill in the Form Below to Get Answers to All Your Questions About Live in Latvia! (FREE)
Igors Krumins continues his activities as a commercial and international lawyer within the body of "Jurmala Invest". He has more than 10 years of experience, especially in the investment sector, and has provided consultancy services to numerous companies with his legal expertise. He successfully completed his undergraduate studies at Baltic International Academy and graduate studies at Latvijas Universitate. Apart from his native Latvian language, he can also speak Russian and English fluently.