Estonia is one of the most suitable countries for a successful investment. It offers easy working, qualified labor and digital capabilities. Estonia makes it possible to offer and develop services and products globally. In order to obtain world-wide competency, Estonia is one of the best options. Then, what should be taken into account while making an investment in Estonia? What are the advantages offered to foreigners?
Economic Situation in Late-Pandemic Period in Estonia
As the pandemic has intensified while we were thinking that it would end soon, new restrictions became unavoidable. This situation affected businesses and companies negatively. Estimations about how long the crisis will long in Estonia have been revised after new Covid-19 pandemic waves.
Due to the pandemic that started affecting the world in Q1/2020, GDP of Estonia decreased. Total contraction of the economy was recorded as 2,9% in 2020. Forestry, fishing, agriculture, accommodation, catering services, administrational services and management services are main sectors that caused this contraction. Initially, a deep contraction was also experienced in manufacturing industry but after a while, a significant improvement was seen in manufacturing industry. Similarly, transportation, warehousing, communication and finance sectors have managed to get better recently.
In 4th quarter, the effects of Covid-19 pandemic over Estonia's economy was more limited. In this period, especially sectors that have low productivity and that offer low salaries were affected much. Yet, since such sectors are not common in Estonia, the economy was affected less in the last quarter.
According to Economists in Estonia
Expert economists in Estonia state that retailing in Estonia is much better compared to other European countries. Managing the domestic market successfully and having better job expectations than the EU are Estonia's pluses. Yet, since export business is not related solely with Estonia, some problems were experienced in this field. Despite the restrictions placed in transportation field, export statistics were beyond expectations. Such that, despite of all restrictions, good trading reached up to one of the highest level in the history. In this period, import volume increased by 14,4% and export volume increased by 8,7%. These percentages are very important for people who will make investment in Estonia.
Business Environment in Estonia Welcomes Foreign Investors
Having liberal economy, Estonia draws attention with its investor-friendly tax system. No-tax system for interest, dividend and accumulated profit is one of the most important signs for this. Additionally, Estonia has already signed taxation agreement with 61 countries, making business easier and long-term business planning possible.
In Corruption Perceptions Index published in 2020, Estonia has 75 points. Yet, at this point, what matters is that it is one of the 20 countries that are showing development against corruption.
National debt of Estonia has increased 9,5% in third quarter of 2020 compared to the same period of previous year. Despite this, total debt of the country is only 18,5% of the gross domestic product. With this value, Estonia succeeded to be the country with the lowest debt ratio.
Estonia does not differentiate between domestic and foreign when it is about investment. Therefore, this situation is very important for foreigners. Structural funds in Europe equally support domestic and foreign companies in the country. Investments by foreign investors are put under protection with international laws and agreements. At this point, Estonia signed agreements with different countries like Germany or Switzerland.
Estonia's informatics infrastructure is highly developed. It is very easy to test realized ideas and observe consequences here. The fact that new solutions are always developed in technology makes Estonia a good selection for investments.
Sectors with the Biggest Potential
There are different sectors in Estonia economy. Yet, some sectors are very popular. Some sectors offer important investment opportunities with their positive conditions. As such sectors have such positive conditions almost all the time, they can develop well. Such sectors are:
>>>

Information and communication technologies

>>>

Electronics and electrical equipment manufacturing

>>>

Wood and paper industries

>>>

Finance and insurance

>>>

Start-up
Estonia is one of the countries that put the highest importance on export. One of the most significant sign of this are various supports and incentives provided to almost all sectors about export. Although all sectors are provided incentives, here are some prominent sectors when it is about exporting:
>>>

Machinery and equipment

>>>

Mineral products

>>>

Metals and metal products

>>>

Transportation tools

>>>

Wood and wooden products

>>>

Furniture, wooden houses
There are also some sectors prominent in importing, as:
>>>

Machinery and equipment

>>>

Mineral products

>>>

Transportation tools

>>>

Metals and metal products

>>>

Chemical products

>>>

Foods and beverages
Estonia is Baltic's Leader, Thanks to Digitalization Spurt
Before making an investment in Estonia, level of digitalization in the country should be known. Investments and incentives provided in this topic for a long time show how important it is for Estonia. Many services in the country are provided in digital environment. It is also similar for services provided to companies.
Estonia has high-speed internet, and it is completely free. Additionally, e-commerce services are provided widely in the country. These situations make it possible for Estonia to diverge positively from other countries in the world.[1]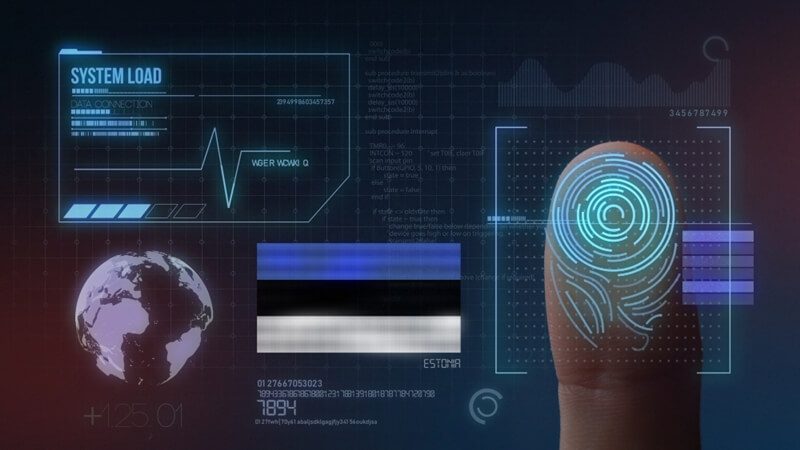 In Estonia, internet is considered as a humanitarian need. With e-services, people can save time, energy and money. In order to benefit from e-services, Estonia ID card and a card reader will be enough. Foreigners, on the other hand, can use a travel document that is valid in the EU in order to benefit from these services. Digital signatures on documents and having many conversation via email provide great easiness to people.
Capital of the Digital World
Putting great important on e-services, Estonia also made important steps in company foundation. Founding a company in Estonia only takes 5 minutes and all process is run online.
Unlike many other countries in the world, Estonia already transferred many of its services to online environment. 99% of banking transactions and 95% of taxing transactions can be done online. Even during elections, internet systems are used and people can vote without leaving their houses. Similar situations exist in health and education fields.
Almost 80% of education is online. Parents can reach their kids' grades as well as their teachers' comments about them via internet. Besides, some learning materials are also available online.
Putting emphasize one-commerce always Estonia almost doubled its e-commerce turnover during pandemic. This situation created new opportunities for businesses selling online. If people who want to make investment in Estonia put this situation to good use, success can be reached in short time.
Estonia Will Develop Faster with New Investments
Like any other country, Estonia also experienced slow-downs due to covid-19 related restrictions. However, since mid-2021, restrictions are lifted and new stage of recovery period is now being experienced. Especially the plan about vaccinating crucial part of the population by autumn will turn the economic life significantly into normal.
With covid-19 pandemic, companies made different things to catch up with the "new normal". Topics like having strong company structure against risks, digitalization of business processes and reaching out clients via internet were focused. Studies performed in this direction may cause economical reshaping in the near future.
Why Should You Make Investment in Estonia?
There are multiple reasons for making an investment in Estonia. From multi-national companies to start-ups with high growth rates, many success stories took place in Estonia. None of them was coincidence. Main reasons behind such stories are informatics, global business services, being developed in industrial principles and offering important solutions to investors.[2]
One of the most important answers to the question in the title above is the fact that business environment is professional, transparent and competitive. It is possible to create scalable business models by using high level of information technologies.
Advantages of Making Investment in Estonia
Workforce in Estonia can speak different languages, English on top of the list. Additionally, the digitalization in the country is also effective on employees to be adaptive. Estonia is one of the leader countries in software development, cyber security, high technology systems, engineering and similar fields.
R&D ecosystem and digital talents make Estonia an effective innovation point. The fact that big institutions and companies like NATO, Ericcson and Arvato run R&D studies in Estonia is one of the most important signs of this situation. Especially in IT field, Estonia is known as one of the leaders by the world.
Estonia's solutions in IT field are used in more than 130 countries. Different software developments take place continuously and serious level of studies are performed in this field. Together with technology, businesses and borders are re-defined.
One of the most competitive taxation system among OECD countries is in Estonia. Even only this can be considered as a reason to make investment in Estonia. Estonian government promote investors for a sustainable financial structure and don't differentiate between local and foreign investors.
CONCLUSION
You have many reasons to make an investment in Estonia. On top of that, reaching success in Estonia is easier than you think. For that, you first need to make a good plan. If you don't have a good plan, you can experience difficulty in time and lose your motivation. In order for such problems not to be experiences, you can benefit from our consultancy service. By receiving support from our experts who are professional in their fields, you can reach success in short time without experiencing any difficulty in making an investment in Estonia. In order to get more information about the topic, you can contact us now.
Fill In the Form Below to Get Answers to All Your Questions About Investment in Estonia! (FREE)
Igors Krumins continues his activities as a commercial and international lawyer within the body of "Jurmala Invest". He has more than 10 years of experience, especially in the investment sector, and has provided consultancy services to numerous companies with his legal expertise. He successfully completed his undergraduate studies at Baltic International Academy and graduate studies at Latvijas Universitate. Apart from his native Latvian language, he can also speak Russian and English fluently.