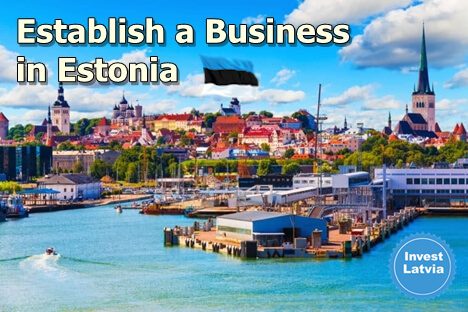 Why is it easier to establish a business in Estonia than in other countries? What are the advantages and facilities provided Estonia ranks 17th in the world in the 2011 Doing Business ranking, announced by the World Bank and the International Finance Corporation. According to the data of ERR Television, countries such as Singapore, Hong Kong, New Zealand, England and the United States are among the easiest countries to establish a business in the last few years. Denmark, Canada, Norway, Ireland and Australia also ranked in the top 10 of the ranking! Georgia ranks 11th among the former Soviet Union countries. Finland ranks 12, Germany 22, Latvia 23 and Lithuania 24th. However, Russia is in 123th place. This study analyzes the economy of 183 countries each year. Countries are examined according to 9 different parameters. Accordingly, they must meet the criteria for establishing a business in these countries, obtaining credit, the time required to obtain a building permit, property registration, investor protection, tax burden, foreign trade transactions and more.
Now that we have made our comparisons, let's talk about why setting up a business in Estonia is very advantageous for investors.
Estonian Economy
Estonia is one of the rare countries with a very high gross domestic product despite its population. Although it has a population of 1.329 million (2020), it has got a gross domestic product of exactly USD 30.73 billion (46.19 billion USD in terms of purchasing power parity). Therefore, per capita income is around USD 23.266. This is a very good figure even among developed countries.
The Estonian government's investments in technology in recent years have been among the reasons for this rise in the economy. A great effort has been made to create a stable and competitive structure.
Its geographical location which is at the intersection of both European and Russian markets has helped increase its potential. This advantage has provided great benefits in the field of trade, culture, and interaction.
Setting up a business in Estonia is quite advantageous. Because it is a country open to trade and capital with its flexible economic model. Estonia, thanks to its modern business infrastructure, has received many investments in the country and has become a favorite country for foreign investors. The advantages of this flexible business environment continue to contribute to the commercial growth of Estonia both regionally and globally.
You May Also Like: 7 Fatal Investment Mistakes You Should Avoid
What is the Secret of Estonia's Success in the Digital World?
One of the most important factors underlying Estonia's success in the digital world is investment. If you want to establish a business in Estonia, it is useful to take a look at the digital sectors. This country has made digital sectors accessible to everyone by investing in its technological infrastructure for many years. Therefore, the economy and trade have taken their share from this digital world. Estonians, one of the most advanced digital societies in the world, have produced many pioneering and innovative digital entities. The secret of their success can be explained by the following reasons.
Estonia is Number 1 in Silicon Valley!
Estonia takes the first place in terms of the number of entrepreneurs per capita. This is great for a country with a population of just 1.3 million. The reason is they are aware of the power of the digital world and always plan their work prospectively. The number of digital solutions they offer is quite high. The best known of these is Skype, which is used by 300 million people. Although it is now owned by Microsoft [1], most of its work is still managed from the capital city Tallinn. The other company they have produced is Transferwise, the international payment tool used by millions of people. They have produced countless global firms like these. Therefore, setting up a business in Estonia will lead you towards a global target more easily.
They are Aware of the Power of Technology and the Internet More than Anybody
Estonia has been using the internet in every field including public and private sectors for a long time. Estonia is known to be the first country that has adopted online voting. Besides, it collects payments such as tax collections online at a rate of 95%. It continues to apply the potential of the Internet to every field throughout the country. Even setting up a business in Estonia is very fast thanks to these online facilities.
The Estonian government has set up a free Wi-Fi network in many parts of the country since 2002 to make the Internet more widespread and accessible to everyone. It is also one of the countries with the fastest internet speed in the world.
You May Also Like: Buying Property in Latvia and Getting Residency
Why is Estonia the Country of the Future for Trade and Investment?
Estonia is a country that believes in the rule of law and has the lowest debt ratio in the European Union. It has a stable income tax rate as well as a balanced budget. These are very important advantages for investors. It also has very important data in terms of being a livable country.
22nd out of 152 countries in the human freedom index

8th among 186 countries in the economic freedom index

It is in the 1st category in the World Freedom Report.

[2]
Estonia is also advanced in banking. Many transactions are carried out online. It is possible to set up a company in 20 minutes with a computer and ID card in Estonia. Foreign investors have the opportunity to set up companies very quickly without facing any bureaucratic obstacles. Carrying out almost every transaction online makes this process very short compared to other countries. Foreign investors can set up their companies very quickly without being asked for required documents constantly, verifications, and meaningless costs. It's that simple to establish a business in Estonia.
You Can Contact Us for All Your Questions About Investing in Estonia.
Igors Krumins continues his activities as a commercial and international lawyer within the body of "Jurmala Invest". He has more than 10 years of experience, especially in the investment sector, and has provided consultancy services to numerous companies with his legal expertise. He successfully completed his undergraduate studies at Baltic International Academy and graduate studies at Latvijas Universitate. Apart from his native Latvian language, he can also speak Russian and English fluently.