Nowadays, with the advancement of technology, rising of competition to higher levels has made it even more difficult for women to take part in financial field. Women have had a great motivation to break their traditional housewife roles to gain financial freedom and fulfill their desires. When researches are evaluated, it will be seen that Latvian women have the willingness to establish a business or to involve in board of directors of companies. This data clearly reveals the richness of Latvia in terms of women entrepreneurs.
Women entrepreneurs in Latvia firstly enter the business world with small businesses and companies. The fact that a significant part of small and micro companies are run by women is one of the most important signs of women entrepreneurs' effectiveness in Latvia.
What is the secret of Latvia's women entrepreneurs' success? We have compiled women entrepreneurs whose names you will hear frequently in the upcoming periods for you.
What is the Secret of Latvia's Women Entrepreneurs' Success?
As Latvia's women entrepreneurs come to significant positions in prominent macro and micro businesses of the country, the secret behind their success has become a topic to be curious about. Yes, it is a fact that women are recently more involved in business life around the world. This situation is at much higher level in Latvia.
Their strong attitude towards obstacles is one of the main secrets that underlie Latvian women entrepreneurs' success.
Motherhood and housewife roles which were traditionally attributed to women can cause different obstacles in business life. Women who are not afraid of these obstacles and overcome them with their insistent attitude are successful. In addition, it is an extremely important detail that women develop themselves in entrepreneurship and act in accordance with contemporary norms.[1]
It is very important for entrepreneurs to turn the conditions of the environment in their favor in order to be successful. It is known that it is easier for women who have full knowledge of environmental factors and use these factors in the way of benefitting for their initiatives.
Latvia's Promising Women Entrepreneurs
It is a known fact that women still cannot find enough place in the business world and keep their distance from this field. However, it should not be forgotten that the number of successful women entrepreneurs in this field has increased considerably in recent years. We have compiled Latvia's women entrepreneurs and their success stories to give hope to women who want to enter the business world but do not have enough courage.[2]  Here are Latvia's most successful women entrepreneurs:
Alina Karpelceva
Alina, who is one of the co-founders of Riga Tech Girls, an initiative to bring Latvian women and technology together, managed to draw attention with her success here. Alina, who works as a developer at 4Finance and has achieved significant success in this field, has an important role in the development of new generation female technical talents.
Alise Semjonova
Alise is one of the successful women entrepreneurs in Latvia. She has not only aimed through her initiatives but also aimed to bring women closer to technology. She is one of the co-founders of the Riga Tech Girls initiative, which operates to ensure that they are also involved in this field.
Alise succeeded to draw attention in the European media with Infogr.am, which she founded. Infogr.am, which is used by companies around the world, is a data visualization initiative. With this initiative, Alise has managed to enter the Forbes list that includes impressive people under 30.
Alise, who is known for her success among Latvia's women entrepreneurs and her effort to attract women to the field of technology, is almost a source of inspiration for women.
Dagnija Lejina
Dagnija has different initiatives in technology and is normally a communication expert. There are many entities in which she is a founding partner.
"Lejina and Sleiers"- Co-founder

"Digital Freedom Festival"- Co-founder and CEO

"Silicon Valley Comes to the Baltics 2015"- Co-founder

"Riga Venture Summit"- Co-founder
When the list above is considered, Dagnija is not a person who focuses solely on her own initiatives. At the same time, she is a successful female entrepreneur who organizes different types of events for women to meet them with technology and stand out in entrepreneurship.
 The "Digital Freedom Festival", which is organized by Dagnija, has handled gender comprehensiveness in technology. This enabled nearly half of the speakers at the festival to be women. Thus, the perspectives of women in this field were clearly revealed.
Inspiring speeches hold an important place in this festival organized by Dagnija who is among the most successful women entrepreneurs in Latvia. Apart from that, new starters introduce their ideas and products, workshops and conferences are held to ensure cooperation between companies. Shortly, the mentioned organization is extremely comprehensive. It has great importance for women entrepreneurs both in Latvia and Europe.
You May Also Like: How to Manage a Limited Company in Latvia?
Jevgenija Zigisova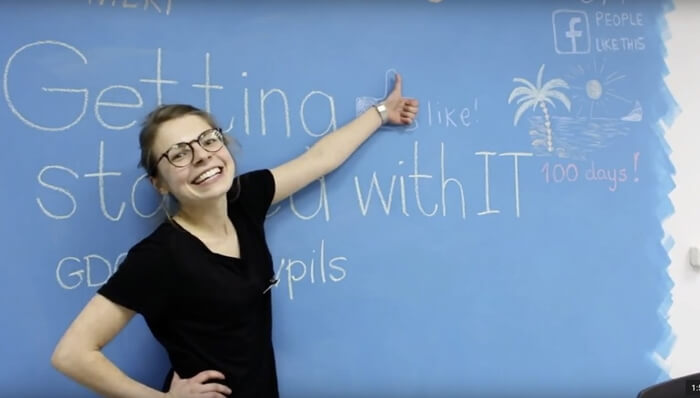 Jevgenija is a special entrepreneur who is trying to prove that geography is not destiny. Her signature is an important part of the entrepreneurship movements in the city of Daugavpils which is one of Latvia's not so prominent cities. Although the incentives given in technology are generally directed to Riga, it can be said that she made an effort for the other part of the country not to be excluded.
She is the founder of the Google Developer Group in her city, which operates for those who have an interest and passion in technology.
Google Developer Group, which is a communication and education platform, has a structure that focuses on developers and technical content.
It is an important opportunity for local developers that it welcomes anyone who is willing to attend. With this completely free initiative, Jevgenija has managed to be among the most successful women entrepreneurs in Latvia.
Gunita Kulikovska
Gunita is one of the most important women entrepreneurs who is raised in Latvia. She has rational and creative personality and she knows how to do things with impact very well. Gunita, who has a successful background in architecture, urbanism and urban transformation, is also a TEDx speaker and a member of the Good Technology Collective. Under favor of her achievements in architecture, she has been declared one of the seven most inspiring women in this field.
Gunita has different initiatives. She actualized an initiative called Vividly that embarks on VR to build better cities. Although this company first started its operations in 2016, it has achieved a serious rise in short time. She has worked on many projects such as the Affordable Housing Challenge, Rail Baltica Riga Station and Expo Astana. She was interested in their architecture and designs industries. All of these can be considered as the details underlying Gunita's success.
You May Also Like: Estonia Carries Out Digital Nomad Visa
Marija Rucevska
Marija, who is among Latvia's women entrepreneurs, is the CEO of the company called TechChill. The company has managed to bring entrepreneurs together not only in Latvia but also in the Baltic region. Finding and inspiring brilliant minds in technology is one of Marija's most important goals.
Marija has an important role in the development of technology in Latvia. She represented her country nicely at the event which is held at the Helsinki Slush. It is a well-known expectation to be true that she will make more contribution to her country in technology in the near future. Besides these, Marija has very important studies on climate change as well.
Marija Rucevska's Studies on Climate Change
Although Marija is still very young, she is well known in her country. Having achieved success in important initiatives such as TechChill and Helve, she has now entered a much more challenging field: "Tackling with climate change".[3]
She started the Quro Protocol in April 2018 to tackle climate change and leave a much better world to people.
The basis of this protocol is to enable people to use digital currency regularly and thus create a sustainable economy.
The pilot version of the project, which was announced in February 2019, aims to create large economies and prevent the damage that people give to the environment. Time will show how successful the project will be. However, it is an indisputable fact that even the idea of Marija, who is one of the most successful women entrepreneurs in Latvia, about ​​challenging climate change is very valuable.
You May Also Like: Company Address Transfer to Latvia
RESULT
As you can see, Latvia's women entrepreneurs have created a global brand by benefitting from the opportunities and advantages in their countries. They are among the successful entrepreneurs who are known around the world right now. Whether you are from Latvia or not, if you have a bright idea, you can establish a business in Latvia and you can benefit from these incentives. For detailed information, you can fill out the form on our contact page or contact us by phone and mail.
Fill in the Form Below to Get Answers to All Your Questions About Investing in Latvia! (FREE)
Igors Krumins continues his activities as a commercial and international lawyer within the body of "Jurmala Invest". He has more than 10 years of experience, especially in the investment sector, and has provided consultancy services to numerous companies with his legal expertise. He successfully completed his undergraduate studies at Baltic International Academy and graduate studies at Latvijas Universitate. Apart from his native Latvian language, he can also speak Russian and English fluently.