Sense Media from Liepaja has drawn attention by creating more than 4.000 minutes of video content for different digital tools of Google. Working together with a large scale partner like Google has brought flexibility, professionalism, strategical approach and quality communication. We gathered all information for you regarding the foundation of Sense Media, its very first international experience and its global targets.
4.000 Minutes of Video Content from Sense Media for Google
Sense Media shareholder Egils Susts attended to the "Information Days in Liepaja" conference in 2019 as invitee. In this conference, Latvian Kristine Lazdina, who was working at Google's office in Switzerland, was also present. There, Sense Media's project to create animation and video content by benefiting from Google's experience and know-how was told out. Consequently, after that meeting, Sense Media managed to produce more than 4.000 minutes of video and animation content for Google's different digital tools within the first year of the project.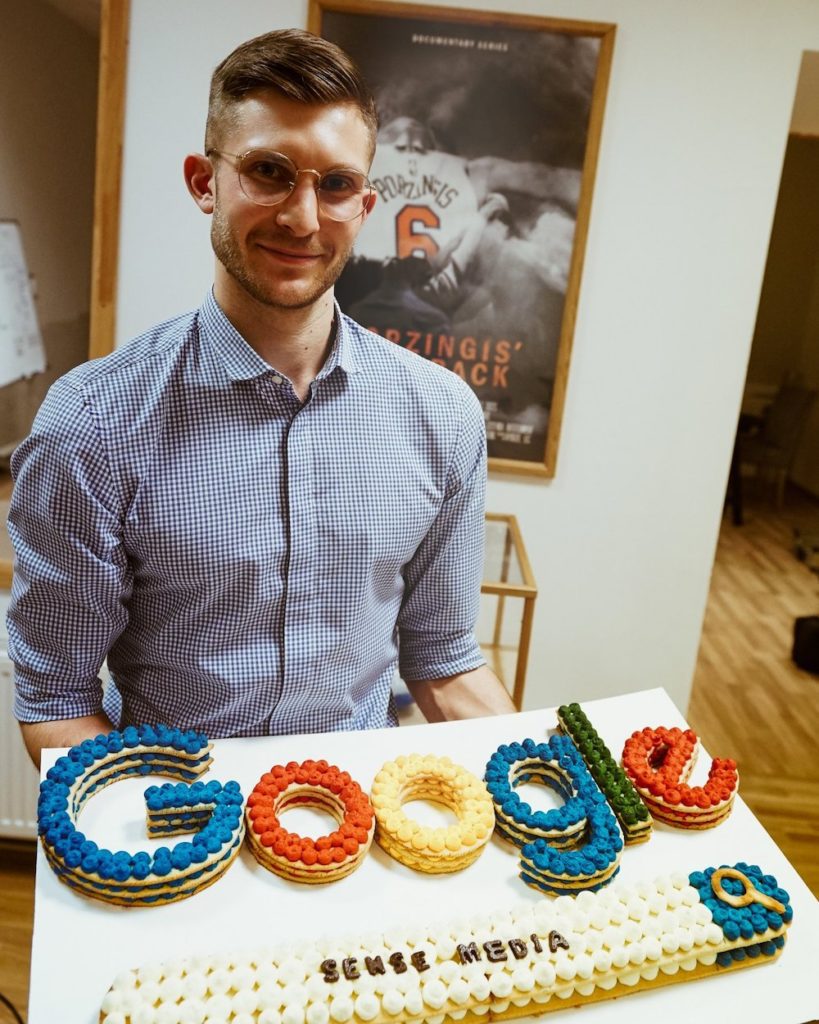 It wouldn't be a mistake to say that many companies have desire to work with a world-class and well-known client like Google. At this point, E. Susts states that reacting fast, problem solving ability, professionalism and strategical approach are all important and continues his statement as:
"Yes, there is a scenario that has to be followed. Yet, problems occur in this scenario from time to time and they must be solved."
In this business, time zone difference is very important. Sometimes, a work that starts at 10:00am must be finished by midnight. On this topic, E. Susts told the following:
"Flexibility has great importance. If necessary, we can work continuously for 16 hours. Completing the job and everyone's satisfaction are what matter."
Of course, Google is not the company's only client. At this point, it is expressed that the company pays the same attention that it pays for Google to all other clients and all clients are approached equally.
Foundation of Sense Media
Being a multimedia content company in the city of Liepaja in Latvia, Sense Media has started its activities back in 2013. Back then, desire of young students to explore cinema industry was the first step before the company to emerge. Since movies are large projects that take long time, priority has been given to animations.
Taking special interest in movies since his childhood, E. Susts started getting education in computer systems in technical school after he completed his 9th class. Yet, since cinematography was always his dream, he wanted to go to Baltic Media and Film School in Estonia. Knowing that an option in Estonia is impossible for him, E. Susts wanted to join media art department in Riga. But, it was obvious that this option would challenge him from financial point of view.
Nonetheless, E. Susts registered for media art program in Riga. He paid for his first semester by selling his computer. Although he had no idea about how to cover the second semester's fee, he joined the program. For the period after that point, E. Susts makes the following statement:
"I figured out that I wouldn't be able to make money by preparing special visual effects. Thus, I started in movie part. Only in a few months, I managed to be able to sell what I produced. After a while, I met with the founder of Sense Media, Mike Auster, and we started to work together. We earned our clients' trust in short time and ensured that our clients will tell amazing things about us. This way, they started to suggest us to others. This was perfect for us."
More Than 500 Clients in the First 3 Years
Sense Media managed to provide service to more than 500 clients within the first 3 years. These services included advertisements, live broadcasts and organizing different events in local market. Back then, video industry in Liepaja was not very developed, so the company had to work hard in all projects with its expertise.
Susts explains this success journey as below:
"First years were very rough. We invested almost all we earned to new technologies. Sometimes, clients needed to make a huge live broadcasting and we didn't know how to do it. Regardless, we told we could do it. At this point, we obtained a considerable part of the information from Google and YouTube."
When it is 2019, E. Susts purchased the shares owned by Mike Auster. At that point, these two have separated their ways.
Read Also: Estonia Carries Out Digital Nomad Visa | Learn How to Apply Today!
The First International Experience of Sense Media
Famous basketball player Kristaps Porzingis came to Liepaja after spending one season in the USA and received trainings in Liepaja Olympic Center. In this period, a short-length film named as "No Place Like Home" was produced and didn't draw much attention.
This short film was an introduction for the olympic center as well and E. Susts imagined how interesting and attractive it can be to film a famous star's life. Yet, it was not possible to realize this idea back then. After a year, the basketball player's brother Janis Porzingis met with E. Susts coincidentally and J. Porzingis asks him to produce content for social media regarding Kristaps's trainings. This request was the very first step of the collaboration, in which E. Susts would document a basketball player's life all-day.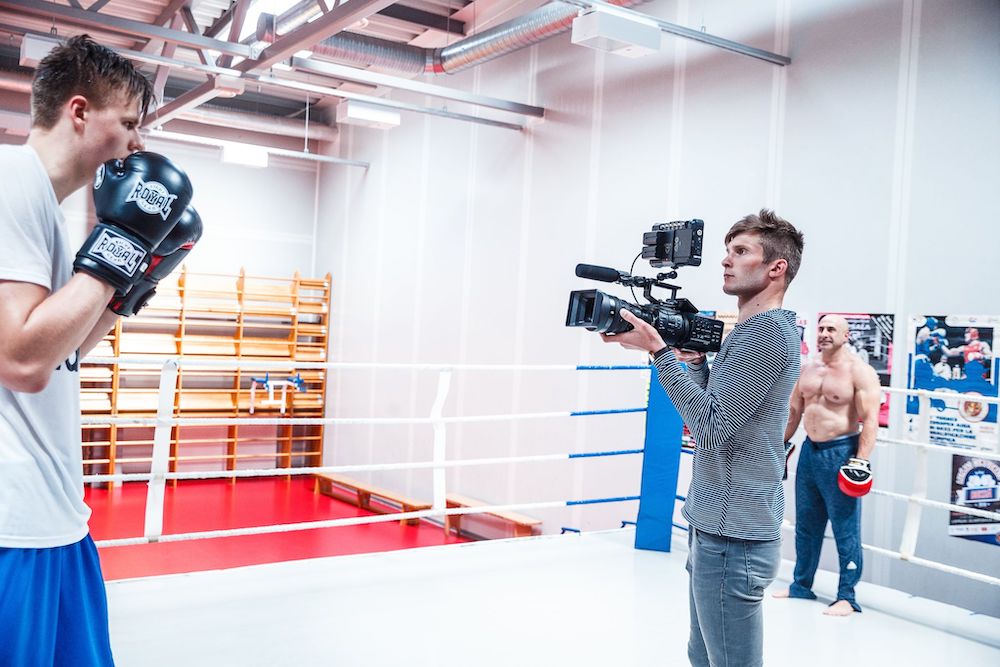 Susts said the following regarding this experience:
"I greatly enjoyed from being in the USA and this experience. I saw what was happening in the world and I dreamed new things. That was a great adventure for me. Working with Kristaps made me realize that I didn't want to content myself with local market only."
Susts, who told that he learned and enjoyed a lot from his experiences there, also filmed Agra Merten's surgeries, who was a spine surgeon.
Read Also: Latvia's Most Successful Women Entrepreneurs in Technology
Sense Media's Dream of Animation Studio
Susts joined forces with Google in 2019 and in the meantime, the company met with Yuri Lisov, the first place owner in the competition intended for youth and held by Sony Pictures Animation and Fredator Studios, which is American Association of Animation Movie Makers. This duo has started to film Blinky series, which was about an annoying dog and its forgotten owner Brandon. Since series like Blinky did not contain any national identity, it was not possible for the series to benefit from supports provided by Latvia National Film Center and Cultural Capital Fund of Latvian State.
Susts said back then: "If I say no, I will find different ways to reach yes. The first year was very challenging for Sense Media. First, I learnt not to trust anyone. With a team that I have my trust on, we managed many things that were impossible for others. So, we are where we are right now."

"Since the project was unique in Latvia, Tet Studija financed it. Yes, this project may be a simple content like Family Guy or The Simpsons, but people want to watch exactly this kind of content. This way, they can stay away from the seriousness of life. In order to earn money and accordingly create new content, you must sell content" E. Susts said and provided different information regarding the process.
During planning phase, final cost was approximated as 15.000 Euro. However, for a movie of 14 minutes, the total cost resulted as 43.000 Euro. This cost is a sign showing that the animation was prepared "square by square". Besides, it was also necessary to specialize in "Toon Boom Harmony" that was created for the animation and this led to faster working process. A small team and a background artist from Los Angeles worked for this project and it was completed in approximately 2 years.[1]
Big Target: A Global Company
It is obvious that a high-level project cannot reach global targets with only Latvian language. Thus, the team is working on the English version. E. Susts says:
"We are planning to sell this content to entertainment content distributors from all around the world who want to make investment for the next series. Yet, even no one needs this idea, we won't be upset. Because this project is important for us and it is an important technical portfolio project for us."
There are 6 animators at Sense Media studio right now. Yet, in a couple of years, it is estimated that total number of animators in the studio will reach 80. Total number of employees in the company is 13. This number is three times the number in the previous year. Total turnover of the company is around 340.000 Euro. It is also estimated that this figure will also be a couple times in the near future.
RESULT
Just like in many other industries, technology and media industries in Latvia has very successful local and foreign entrepreneurs and their success can't be ignored. Advantages provided to entrepreneurs, tax incentives and all other supports have made Latvia a popular option for investors and entrepreneurs. If you also want to have the right to move freely in Europe by making an investment or being an entrepreneur in Latvia, contact us.
Fill in the Form Below to Get Answers to All Your Questions About Our Services! (FREE)
Igors Krumins continues his activities as a commercial and international lawyer within the body of "Jurmala Invest". He has more than 10 years of experience, especially in the investment sector, and has provided consultancy services to numerous companies with his legal expertise. He successfully completed his undergraduate studies at Baltic International Academy and graduate studies at Latvijas Universitate. Apart from his native Latvian language, he can also speak Russian and English fluently.